GARDEN SHOWCASE
One Tank Trip! Explore the 12 One Tank Trips! themed gardens created by some of Northeast Ohio's top landscapers. i.e., Put-N-Bay, Cedar Point, Hocking Hills, Ohio State, Marblehead Lighthouse and more!
"KEEP CALM AND LEAP ON" FEATURE
Local celebrities compete for bragging rights by decorating a ceramic frog. Consumers can then vote on their favorite and silent bid for the chance to take one home. Proceeds to go to a local charity. The local celebs will in turn promote their ceramic frog through their media channels.
"HOMES THAT ROAM" RV SHOWCASE
Be sure to visit our "Homes that Roam" RV Showcase feature by General RV, generalrv.com and Avalon RV, avalonrvcenter.com to check out the latest and greatest homes on wheels. Whether you are looking to travel full time or simply want your next vacation to be less stressful, you'll leave inspired and ready to hit the road! Visit booths 1575, 1673, 1587 and 1687.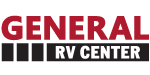 DIY Inspirations
FLIP Challenge in support of Habitat for Humanity of Summit County. Local bloggers and designers are joining us for our second ReStore FLIP challenge! Participants travel to the ReStore, pick out an item under $100, take it home to "flip" it, and bring the finished product to be featured on display at the show. You'll have the chance to take their creations with you and make them a part of your home by placing a silent auction bid on your favorite, with 100% of auction proceeds benefiting a local chapter of Habitat for Humanity, the world leader in providing families with a safe, affordable place to live.
Lil Bear Tiny Homes
The Timber-Chalet at 30' long x8.5' wide is our most innovative design yet offering unparalleled vistas with floor to vaulted-ceiling windows. It is equipped to comfortably house an entire family rather it be for an elite vacation or full time living. The Timber Frame/Craftsman Style architecture offers timeless beauty while open floor plan makes it feel more like escaping to your own personal ski resort than glamping. The master bedroom offers a queen bed, ample closet space and vaulted ceiling. There is a full kitchen with bar top & stainless farm sink. The living room overlooks the dream vista of your choice as well as a stone fireplace/entertainment center. The 2 lofts sleep up to 4 and offer generous headroom as well as great views. The Timber-Chalet is intuitively designed to be substantially lighter using steel framing without compromising strength. lil-bear-tiny-homes.business.site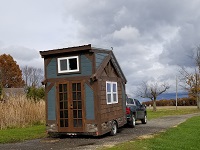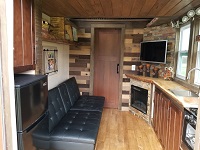 EPS Buildings
House of the Future! Are you looking to build a new home that provides the custom, creative design you wish for along with the use of the latest in building technology? EPS homes feature construction using Structural Insulated Panels (SIPs), which are quickly becoming the desired choice for a lifetime of value and comfort.

Tour the open and spacious modern ranch with generous outdoor patio room, and plenty of natural light to enjoy the views. Utilizing state-of-the-art building materials to achieve energy efficiency and comfort."

Energy Panel Structures can help connect you with a local builder who can help make your dreams come true - whether it is for a single family home, multifamily complex or a dream cabin. www.epsbuildings.com/residential

Idea Home Landscaper – The colorful, low-maintenance landscaping and outdoor living areas designed to complement the Idea Home & Backyard Living will be provided by Postiy's Landscaping & Excavating.

WEAVER BACKYARD OASIS
Sponsored by WOIO-TV. Specializing in quality and design, Weaver Barns will once again showcase their products at the Great Big Home and Garden show. Anything from shed and pavilions, to a beautifully designed garage and small cabin, you will love the versatility these structures have to offer! We are excited to introduce our new "Flex Series" which lends itself to many different uses. With many different sizes and designs, this building can be used as a unique storage option, a studio, or that small cabin by the lake you have always wanted. Weaver Barns will also be displaying backyard structures. Do you want to create your own "Outdoor Oasis"? We would love to work with you and make your dreams and ideas become a reality. weaverbarns.com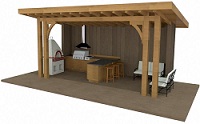 Pettiti Gardening Center
At The Petitti Gardening Stage, daily gardening seminars on landscape design, floral and furnishing outdoor rooms will be presented by Northeast Ohio landscape experts. The Petitti Floral Mart will feature outdoor furniture, decor and numerous plants for purchase.
Long Putt Contest
Built by Keepers Turf. FREE for a chance to putt. Anyone who makes the putt in the first 9 days gets invited back on the final Sunday for the final contest OR Sell tickets / 1 chance to make the putt and get invited back on the last Sunday for the final shoot out.
About the green: The green will feature a 40' putt that will have breaks that will test your ability to read a green. Keepers Turf is a synthetic turf installation company that focuses on residential and commercial applications. From putting greens to backyards, our company offers design and installation services.
PLAYGROUND WORLD'S KIDZONE
Kids can have fun in Playground World's KidsZone, featuring slides, swings, basketball hoops and the world's safest, fully-enclosed Springfree™ Trampoline. Parents can also sign up to win their choice of one of three high-quality products that kids can enjoy for years!
Rosanna's Favorite Finds
Rosanna, Group Manager of the Great Big Home + Garden Show will select her favorite finds from the 2020 show. The favorite finds will also be featured in the Show's Official Show Guide and highlighted on the Show floor.
Home Depot Kids' Workshops
Children will learn how to use a hammer while constructing a small project of their choice and leave with their own orange workshop apron.
CLUB CAMBRIA
If you need to relax and rejuvenate after a long day at the show, saunter over to our chic, design-inspired Club Cambria. Take a break from the show without missing out on all the action – the Club is located in the middle of the Show Floor and offers ample beverage options and light snacks.
I-X WHITE CLAW BISTRO LOUNGE
Show attendees can relax and enjoy fine dining among the beauty of the Garden Showcase in the I-X White Claw Bistro Lounge, a full-service, white-tablecloth restaurant.

FLORAL MART
Spring has sprung in the lobby! Local florist Blossom Cleveland will be on hand selling fresh flowers to get you and your home ready for spring – we insist you stop and smell the roses as you exit the show!
NETWORKING NIGHTS
VIP Networking & Social Reception with Northeast Ohio area Chambers of Commerce Networking Night, etc.
FLOWERS, FLOWERS, FLOWERS
The fragrance of Spring will be in full bloom when entering the Show as you encounter The Flower Wall Entrance designed by Plantscaping & Blooms! Have fun posing and posting to social media colorful pictures in front of this fun flower feature!
SHOW GETS THE LOCAL COMMUNITY INVOLVED
Help the Jimmy Malone Scholarship Fund of the Cleveland Scholarship Program send a deserving local student to the college of his/her choice for four years. When purchasing tickets online, visitors to the site will have the opportunity to donate to this deserving charity! jimmymalone.com
The Greater Cleveland Habitat for Humanity, which builds homes to strengthen neighborhoods and bring urban and suburban communities together, will have a Restore booth at the show where attendees can contribute to the fund to build a Habitat for Humanity home or purchase home products and appliances at extremely discounted prices.
See the work of the Top 10 finalists on display at the show in the 2020 Student Model Home Design Contest. Finalists will be selected from all participating grades 10-12 students currently taking classes in the building trades at schools across Northeast Ohio.
MAIN STAGE & COOKING STAGE
Sponsored by the HBA Remodelers Council & 84 Lumber. An annual crowd pleaser, The Main Stage and Loretta Paganini Cooking Stage, offers attendees home and garden tips by nationally recognized home improvement celebrities and local experts as well as exciting culinary demonstrations by area chefs. The state-of-the-art kitchen stage and vignette featuring the latest appliances, cabinetry, flooring and more will be designed and built by the Home Builders Association Remodelers Council hbacleveland.com for consumers to tour between stage presentations.