Thousands of homeowners converged on Cleveland's I-X Center for ten days of shopping at the 2019 Great Big Home + Garden Show, making it a must-attend event again this year. With ideas in mind and money to spend, visitors eagerly walked the show to gain inspiration and meet with more than 600 exhibitors and experts to discuss their projects. Here's a recap of the exciting marketplace buyers experienced.
Click here for the 2019 post-show report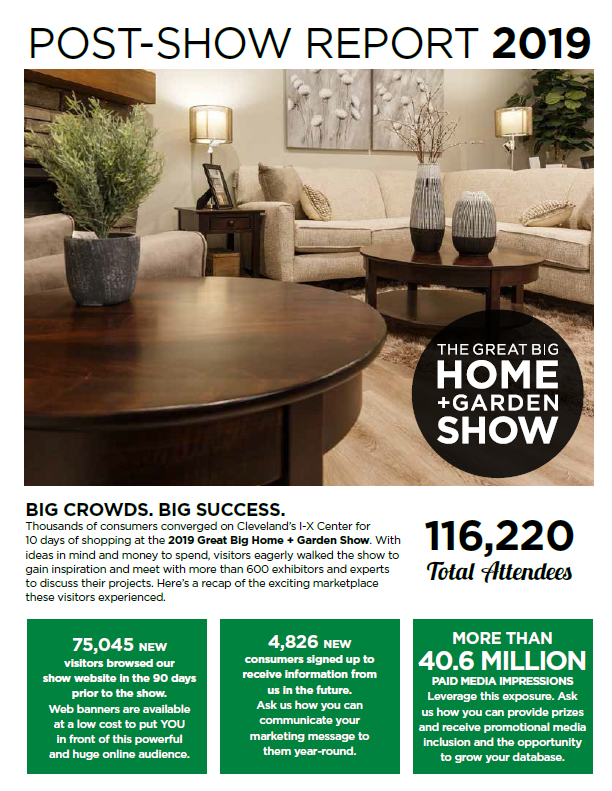 Remodeling Magazine listed the Top 100 US markets for REMODELING. They measured the overall level of remodeling activity nationally against activity in 2007, the baseline year. Akron ranks at 59 and Cleveland at 74! Remodeling dollars are being spent HERE. Grab YOUR share by meeting qualified homeowners with specific projects in mind!

Compared to the cost of other advertising vehicles — including the daily newspaper in which you advertise — exhibiting in the Show is much less expensive and delivers immediate and tangible results. Instead of placing an ad and waiting for your phone to ring, your target customers will be standing in front of you!

Exhibiting in the show is a very cost-effective investment and you have the opportunity to sell face-to-face to tens of thousands of homeowners. And 57% of all homeowners believe that face-to-face is the most important source of home improvement information (source: Home Improvement Research Institute). There is no substitute for presenting your product in this vibrant marketplace.

Ours is a selling show. The visitors love to make purchases and the research indicates that 64% of them do so while they are at the Show! Additionally, 77% of attendees plan on making a purchase within six months after the Show. This translates into an instant return on your investment.

Our shows are priced according to the value they provide and we are confident in our pricing system and more importantly, in the return you will receive on your investment. We work with 14,000 exhibitors each year, 85% of which are satisfied with their experience at our shows and 71% that come back year on year.

Marketplace Events has a sophisticated and strategic online marketing campaign that offers our exhibitors and sponsors the opportunity to generate leads prior to, during and long after our shows. More than half of our attendees visit our website prior to attending the show and in 2009, 40% of our attendees purchased their tickets online.

Home Shows are the only true form of permission marketing where homeowners actually pay for the opportunity to shop, compare and buy your product and services! Our show provides a unique face-to-face opportunity for consumers to experience and interact with your product/service and to hear directly from your staff the exact, unfiltered message you want delivered.