Super Stain Refinishing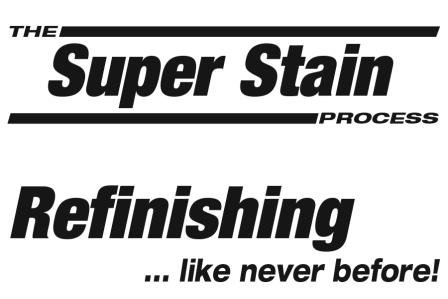 Booth: 593
480 Center Rd.
We at Super Stain, Inc. have a revolutionary wood refinishing process that will produce a deep, rich wood tone or solid color white, off white etc., over an existing finish without stripping or sanding to bare wood! We apply this finish with a spray gun right over the existing finish after thorough preparation, without the mess that comes with stripping or sanding to bare wood.
THIS IS NOT A KIT FROM A HOME IMPROVEMENT WAREHOUSE.
Those kits are latex based and are non-transparent, meaning they won't allow the grain to show through. The Super Stain Process will allow the beauty of your wood to show through in the color tone of your choice. We also have a solid color white that can be tinted to a variety of off whites and greys. So instead of the time and trouble of an expensive kitchen remodel or cabinet re facing, we can refinish your tired old cabinets, transforming them from outdated golden oak, to any number of today's current deep wood tones or a solid colors. From just a light mist coat to freshen up your current color to a deep espresso brown or a solid white, the choice is yours! Whether your kitchen needs new life or your foyer stair, your front door or interior doors or trim, with The Super Stain Process, we can refinish it like never before!