HempWorx / My Daily Choice - Independent Affiliates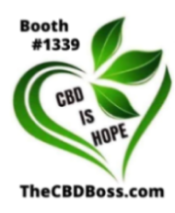 Booth: 1339
Find out How to find the most effective and safest CBD oil and products in the industry. Besides looking for true 3rd party lab testing for how much CBD and THC is or is not in a hemp or cannabis product, look for USA grown and made and for the US Hemp Authority Certification Seal on the website and label. We'll fill you in on the other things to look for, like ingredients, flavors, organically grown, non-gmo, and your is it legal questions.
We carry hemp hair care products and skincare, tinctures / extracts / oils. Gummies , 500, 750 and 1500 mg strengths and our relief cream for those aches and joint and muscle discomfort in your knees, back, neck, head, hands and more. Our hair products and hand and body lotion smell absolutely delicious. Our CBD is not a pain in your wallet and we have a 60 day empty bottle money back guarantee. That means we actually want you to open it and use it and experience the better sleep, increased energy, calmness, movement you are looking for. And this is great for not only you, but your mom, dad, children, and pets, including your dog, cat, horse, mouse. Pets have a hard time with being alone and afraid and separated from us. Many don't like rides in the car or fireworks and get very jittery and nervous. Our HempWorx hemp derived CBD is full spectrum or broad spectrum (which is THC free, but with all the other cannabinoids, terpenes from the plant are there). So if you are drug tested for any reason, no worries, we have a product for you.
Coffee lover? You have got to try our CBD and Chaga mushroom coffee and keto creamers.
Check out our website at www.TheCBDBoss.com for the low down on all our goodies. HempWorx is just one brand from My Daily Choice. On the website and at the booth, we'll be happy to fill you in on our sprays (great for people that hate swallowing supplements / pills. And our travel program is flying high indeed. Fly and vacation anywhere for discounts. AND as a great bonus, you get reward points toward your vacations when you order any of your products from us. We are looking forward to listening to you!