Grout Doctor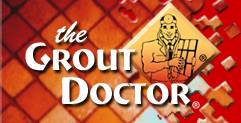 Booth: 599d
25681 Nichols Road
Columbia Station,
OH
44028
Pretty Tile, Ugly Grout? Let the Grout Doctor renew your existing grout and tile to its original beauty! We cure sick grout. Tile Cleaning Cleaning and Sealing, Staining and Recoloring, Re-grouting and Repair, Re-caulking, Natural Stone Care.

We are an independently-owned business backed by the most respected and recognized national brand in the industry. Our local knowledge and national support system allows us to offer you the best service available!

Top 7 Benefits of Grout Staining

1. Highest level of protection available

2. Lasts up to ten times longer than clear sealers.

3. Minimizes maintenance

4. Resists pet urine stains and odors.

5. Offers color change option (lighter and darker) to match your changing decor.

6. Can be used on newly installed grout to keep your grout looking new.

7. Maximizes beauty of old or new grout.

Need our services? Get a free estimate today! Call 216-491-4533.

The Grout Doctor is in the business of renewing existing grout and tile to its original beauty. We fulfill our vision - to help homeowners and business owners enjoy the beauty of their grout, tile and stone - while minimizing maintenance. Our Membership As members of both the National Tile Contractors Association (NTCA) and the International Franchise Association (IFA), we've positioned ourselves to have a direct association with, and easy access to, some of the most committed professionals in our industry.

For many years there has been a demand for someone to do grout repair and minor tile repairs. The Grout Doctor was founded to fill that niche in the market. In 1992-93, franchises were sold in California and Arizona. The Grout Doctor then continued expanding through area developers offering an independent contractor program. Grout Doctor Global Franchise Corp. was subsequently formed in 2001 and promptly began offering franchises throughout The United States.

Do you have tile and grout in your home that needs to be cleaned? If so, save your time, your energy - and your knees! Let us handle the job for you. Our tile and grout specialists will get your tile areas sparkling like new again. We can handle any surface including: Bathrooms - tubs, showers and floors; Kitchens - floors, backsplashes, counters and walls; Outdoor areas - terraces, decks, patios and pool areas; Traffic areas - hallways, foyers, staircases.

When you want the job done right, depend on us. Our professional, courteous cleaning team will have the job done in no time. We will be happy to work with you schedule so as not to disrupt your routine. We also offer automatic scheduled cleaning - so call today.

The Grout Doctor uses private labeled, premium grade, environmentally safe products developed to meet the specific needs of our industry, tested through field experience and refined to exact specs. Grout doctor cleaners are designed to loosen and emulsify soils and stains to facilitate soil removal, dissolve calcium carbonate and remove the embedded soil layer in the most extreme tile and grout cleaning situations, thereby renewing the surface of the grout. Grout doctor grout and stone sealer is a professional grade, water-based sealer far superior to "Home Center" products. It penetrates deeply to offer the very best protection for stone, tile and grout, from oil and water based spills and dry soils. Try our proprietary Grout Maintenance Products..... Grout Doctor Shower Cleaner uses amazing advances in high tech surfactant technology to cut grease without the addition of solvents. It is for ceramic, porcelain and quarry tile floors or walls with mineral scale and soap scum residue or to remove embedded stains from grout. Grout Doctor Neutral Cleaner has incredible cleaning power, excellent degreasing qualities and assists emulsification and removal of soils and residue on natural stone, ceramic, porcelain and quarry tiles. It moves grout toward a neutral state, improving bonding and performance of grout sealers.