Grime STOPPERS® Heavy Duty Hand Wipes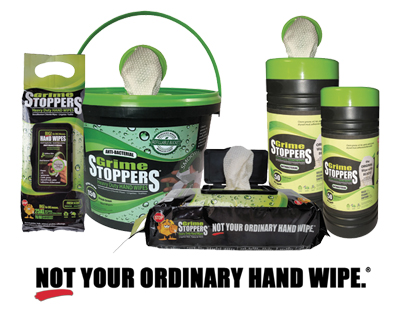 Booth: 141
19449 Progress Drive
* * * ROSANNA'S TOP 10 FINDS LIST 2020 * * *
A wipe made for everyday grime.
We know you love what you do. But let's face it, whether you're a DIY'r, Lawn & Garden Pro, Contractor, or other trades person, your hands are getting dirty.
That's okay because there's Grime STOPPERS® Heavy Duty Hand Wipes to clean your hands no matter what they encounter, when soap & water are not around.
Made for the trades to use at WORK, yet gentle and safe to use at HOME and at PLAY, they're NOT YOUR ORDINARY HAND WIPES.®
Reinventing hand wipes with one purpose.
We created Grime STOPPERS® Heaving Duty Hand Wipes with one purpose in mind, to offer dirty hands a superior hand wipe better than anyone else. With its' revolutionary 3-in-1 Cleaning Formula & 2-in 1 XL, Dual-Sided cloth with Micro-Power Beads™, these wipes deliver.
2-in-1 XL CLOTH
• Dual textured cloth with Micro-Power Beads™ gently loosens & traps stubborn grime
•XL Cloth (10.63" x 8.19"), bigger, thicker, stronger than ordinary wipes
3-in-1 CLEANING FORMULA
•ANTIBACTERIAL kills 99.9% of germs on hands
•SOFTENS rough, dry, hard-working hands with Aloe Vera, Vitamin E, & Lanolin
•CLEANS grease, oil, paint, tar, caulk, grout, drywall mud, adhesives, & then some!
Find out more at: www.Grime-STOPPERS.com
DON'T MISS OUR SHOW SAMPLES, SPECIALS & CONTESTS
TRY IT! Free sampling at our booth #141
BUY IT! 2 Special Show Discounts
1. $5- 25pc Packs - that's a 23% savings!
2. Get the 25% Pre-show online discount now thru January 30th, 2020 with the code: PRESHOW
DAILY CONTEST Stop by booth #141 to enter a chance to win a 12-month supply of Grime STOPPERS® Heavy Duty Hand Wipes (Retail Value of $72). *Awarded to one participating entrant per show day. * (Entry box is emptied after each daily drawing, increasing your chances of winning!) *Requires valid phone and email contact on entry form to claim prize. *No purchase necessary. *No need to be present to win. *One entry per person/per show day
THANK YOU FOR YOUR PATRONAGE
We're a local, family and veteran owned company in Strongsville, Ohio. We'd enjoy to meet your acquaintance while attending the Home & Garden Show. Stop by our booth #141 for a free sample, a chance to win a 12 month supply of hand wipes, take advantage of our $5-25pc Pack Show Special (a 23% Savings)…or just to say "Hi!"