Farmhouse Stoneware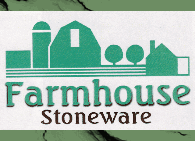 Booth: 1512
12480 Ravenna Rd.
Farmhouse Stoneware: Homemade stoneware for your kitchen, bath, and garden.
Farmhouse Stoneware/Cottage Pottery is owned and operated by husband-wife team, Jim and Betsy Anderson, out of their home in Munson Township, 4 miles south of Chardon Square in Geauga County, Ohio. We manufacture decorative and functional, wheel-thrown and hand-built stoneware for use in home and garden. We exhibit and sell at about 10 venues per year, as well as from our studio/workshop on Ravenna Rd, across from Junction Auto Buick/GMC car dealership. We enjoy production work, but our passion is filling our customers' special needs with personalized wedding bowls and dinnerware.
Contact Jim & Betsy Anderson by phone at 440-286-1100 or email farmhousestoneware@windstream.net or visit our website at
www.farmhousestoneware.com
for items in stock or to order your special pieces.
Be sure to visit us at Booth 1512 at the Great Big Home and Garden Show at the Cleveland IX Center.