Campopiano Roofing, Inc.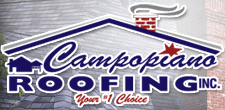 Booth: 393
2100 Case Parkway North
For more than 25 years Campopiano Roofing has worked hard to provide Northeast Ohio and beyond with a premier roofing and exterior application construction firm. Our goal is to exceed the standard in the industry by providing our customers with services superior to all other businesses of our kind. Here at Campopiano Roofing, we recognize the importance of solidarity throughout all members of our team. To ensure success as a whole, individually we strive to accomplish the same goals while keeping awareness of our principles.