Acme Fence & Lumber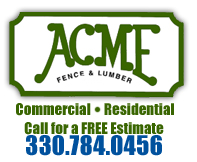 Booth: 553
1053 Bank Street

For more than 50 years, handsome, rugged, custom cedar fences from the quality cedar fence experts at Acme Fence have been beautifying and protecting homes and businesses all across Northeast Ohio. We're a family-owned, Ohio company, and since 1939 we've devoted ourselves to providing our customers with top of the line custom fence quality at popular prices. Every Acme fence is custom-installed by our own highly trained, experienced, professional team. We stand behind each fence with a full, written guarantee.

We Design Acme Fences to Enhance Your Home.

Think of your yard as an outdoor room, that can be enclosed as additional living space, an environment where the play of light and shadow changes beautifully by the minute. Our professionals take all this into consideration when they design your custom installation. They make the most of your landscaping and they give you visual beauty with visual privacy.

Acme Country Club with Trellis Fences

The Acme Country Club with Trellis fence adds a classic trellis section to the top of the Country Club fence design. This trellis creates an open, airy weave that will be a special enhancement for homes featuring traditional or classical architectural design.