A Spice Above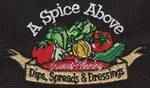 Booth: 626
2239 SW Kenilworth Ct.
We are A Spice Above Gourmet Dips. We carry 19 varieties of All Natural Gourmet Dips. They are Low in Carbs and they contain No Msg, No Preservatives and No Gluten (except for Hearty Cheddar Bacon). These are high quality dips. The taste and quality of these dips speak for themselves! The Dips are great for dipping chips and veggies. They are also great on potatoes! Or you may want to try them as spreads on bagels and crackers, or use them to make a cheese ball. They are also delicious as a seasoning on your favorite meats and seafood!

Give us a try and I'm sure you will be delighted with this product! For our return customers, thanks for your business and enjoy!